High Quality Christian Holy Land Tours
Weekly to Israel, Jordan, Egypt, Turkey, Greece
Let the Land God gave Abraham speak to your heart. Hear stones cry out...breathe the air...experience the Land flowing with milk and honey. See mountains, valleys and lakes David marveled over...sift the sands of Abraham, Isaac, Jacob, Paul and The Lord Jesus Christ. You've longed for it all your life! Is NOW your time to come home? Home to the Holy Land?
Groups, families, individuals starting at $1499 + airfare. Specialists in private customized family and group tours, large or small.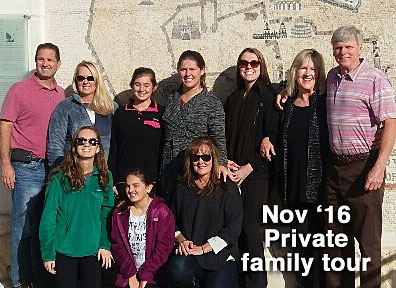 "Tim, our family had a wonderful experience last week. Yael is an excellent guide. Thanks for a great job. I'll certainly recommend you to anyone considering a Holy Land trip." - David Kennedy, SC

TOURS   |   VIDEOS    |   TESTIMONIALS
President's Tours
| Israel, Jordan, Egypt with Nile Cruise - March '17 |
| Turkey, Greek Islands Cruise, Greece - October '17 |