In your innermost being you hear the Lord calling you to walk in HIS footsteps, in HIS homeland! Christians just like you have heeded this call for 2000 years. Before you answer that call you have questions and concerns. I answer them!
Let me tell you an unrelated story. I started thinking about a new truck to pull our travel trailer a year ago. The choices were Ford, Chevy, Dodge, or Toyota. I asked advice of friends and searched the internet but avoided new car lots. My problem was that new trucks were too expensive and I was not ready for "buy now" pressure.

One morning on a whim I stopped at a Dodge store. I was escorted to a long line of new Ram trucks and asked what color I liked. I then started asking questions. Not long into the conversation the salesman was unable to answer my questions and admitted he was new. He called another salesman over who also could not answer my questions. I left wondering why the dealer had salesman who were nice but did not know their product inside and out.

A month later I was telling of that experience to a friend who is the General Manager of the Honda Store owned by the same company as the Dodge store. He said "let me take you across the street to meet their General Manager." That visit led me to their fleet manager, Tom, who answered every question I asked, plus gave me a fabulous price. Because of his experience and knowledge he has sold thousands of Ram trucks. We love the new Dodge Ram now sitting in our driveway.

Do you have tour questions you would like answered? Do I feel the presence of God there? Is it safe? How do I get there? Who meets me? How is the food? What are hotels like? What do I see? Can I be baptized? Do guides know the Bible? What if I get sick? Can I keep up? How much walking is there? Can I bring my children or grandchildren? Do you have a tour that matches my vacation dates? What is the true cost? Do I need travel insurance? What if I have to cancel due to a family sickness? How many are in the group?

Frankly when you call many companies you often talk with pleasant clerical staff who have little or very limited first hand experience in the Holy Land. Booking online you are bound to have unanswered questions. You find that I am different! My time is yours until your questions are answered. You benefit because I've lost count of how many times I have experienced the Holy Land. For 32 years I've assisted clients just like you! Look at the faces in the photo above. Those happy faces are not from one church. They called with questions and concerns from all over the United States and after I answered their questions they booked. I love being your Holy Land Tour "fleet manager," so to speak!

Call me toll free at 800-777-7657 to book a tour or ask questions or express your concerns. (If you want to review the itinerary before you call me just scroll down, it below with beautiful photos). When you are just thinking about a Holy Land Tour (tire kicking so to speak) you can email me saying: YES Tim, I want to start by watching your FREE Tour DVD and spreading your FREE map of Israel on my kitchen table. (Please include your mailing address in this email)


Weekly Christian Holy Land Tours
Let the Land God gave Abraham speak to your heart, to your innermost being! Hear stones cry out...breathe the air...experience the Land flowing with milk and honey. See mountains, valleys and lakes David marveled over...sift the sands of Abraham, Isaac, Jacob, Paul and The Lord Jesus Christ. You've longed and dreamed about it for all your life! Answer the call! Come home NOW! Home to the Holy Land!

To provide you the best value for your dollars while experiencing as much of Israel as possible, our weekly tour has been finely tuned for more than 18 years. There are many tour details that you have never thought of as you plan your tour - you will find that we have! To improve the tour for you we contact our clients after their tours - we have feedback from hundreds of them. As a result much of our business is returning clients, their friends and families. Our tour includes everything except self service lunches and tips. You will find names, emails, and phone numbers of many previous clients on our testimonials page - check with them. Because of the quality of their experience with our tour these clients have made themselves available to you, ask them if "we do what we promise."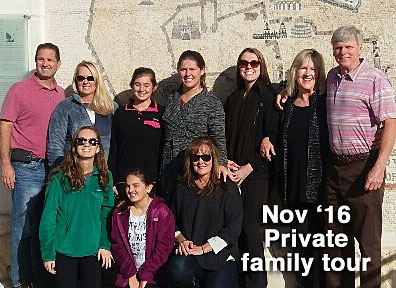 High quality for groups and individuals. Specialists in private customized family and group tours, large or small.

"Tim, what a wonderful experience with your excellent guide. I recommend your company!" - David Kennedy, SC


Our weekly tours follow two Christian itineraries each week. You choose First Class or Deluxe hotel plans designed to meet your expectations and fit your budget. Tour starts with your first dinner and hotel in Israel on Sunday or Wednesday night and ends one week later. Airfare is not included: book your own, use frequent flyer miles or ask for our free assistance thru our consolidator who has excellent pricing.
Meeting and assistance at Ben Gurion Airport in Tel Aviv, arrival and departure transfers, 6 sightseeing days in a/c vehicle, professional government licensed guide, entrance fees, taxes, boat ride on the Sea of Galilee, breakfast and dinner daily, and 7 hotel nights. Guides are chosen for their knowledge of the history of the Holy Land, the Bible, command of English and courtesy. Extra hotel nights are available in advance or following tour at competitive prices including breakfast and dinner. It is easy to arrange your tour with a free day at the end without the cost of an extra hotel night - ask about this option which many of our clients enjoy.
BOOK your tour with a $250 non-refundable deposit. To book call Tim at 800-777-7657 or 208-386-9277 (from outside the US). Final payment is due 14 days before departure. When final payment is made there are no refunds if you cancel the tour so WE HIGHLY ADVISE BUYING TRAVEL INSURANCE. Visa, MC, AMEX accepted for booking deposit. Personal checks welcomed for payment of the balance. If you choose to pay the balance of the tour by credit card add bank credit card surcharge of 3%. Training Unlimited Tours LLC is not responsible for delays, injuries, accidents on the part of airlines, hotels, tour operators or governments.


"Dear Tim, I can't remember when I have been as pleased with someone providing a service as I have been with you. Both my wife and I count the experience you provided and your care among the highlights in our lives. Please accept my warmest thanks and a well done." - Gary and Barbara Mueller, Long Beach, CA.
Join the "Source of Faith" from any other country. We've had members from Canada, England, Russia, China, Saipan, Indonesia, New Zealand and Australia. Mom's DREAM came true - "The trip was worth every penny! The tour was very well organized with excellent food. The group and guide were friendly. It was a pleasant, touching and memorable experience." - Iris Villanueva, San Diego, CA.

Weekly Sat-Sun Tour Itinerary
(Tues-Wed reverses this itinerary and hotels)
Saturday - Day 1:Overnight flight to Tel Aviv.
Sunday - Day 2: Upon arrival at Ben Gurion International Airport in Tel Aviv you walk some distance and pass through Passport Control and then are met by our representatives with a sign with your name on it. They will assist with your luggage and arrange transfer to your hotel in Tel Aviv for one night either on the beach or near it for dinner and overnight. The beach path is wonderful for a walk. You are in sight of Joppa/Jaffa where Jonah departed from and Peter received his lowered sheet vision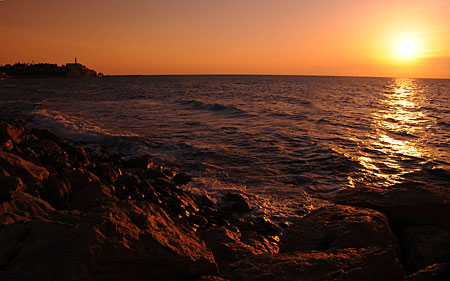 Monday - Day 3:Drive along the Mediterranean coast to Caesarea, the ancient Roman Capital built by Herod the Great in 22 B.C. See the Roman Amphitheater, Aqueduct, and Herodian Port. This is the location of the home of Cornelius and where Paul the Apostle was kept prisoner before being sent by ship to Rome.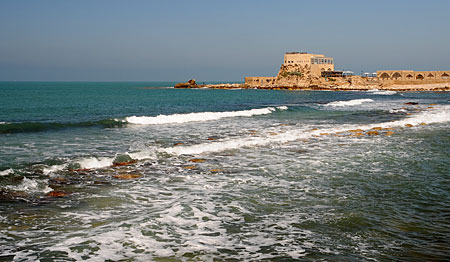 Continue via the Valley of Armageddon to Megiddo and visit the remarkable excavations, including the famous well and King Solomon's stables. Imagine how many battles have and will be fought here.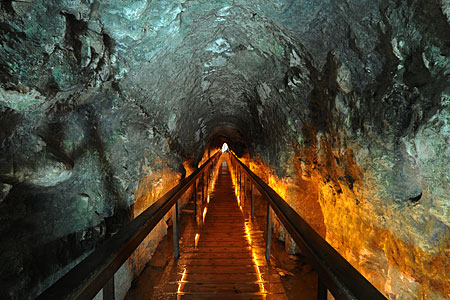 Climb the winding road to the top of Mt. Carmel and visit Muchraka (place of the fire) where Elijah met the prophets of Baal.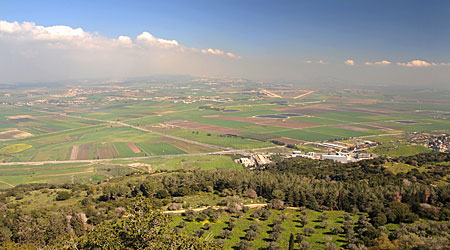 Cross the Jezreel Valley to your hotel near Tiberias for dinner and overnight for 2 nights.
Tuesday - Day 4:Enjoy a boat ride on the Sea of Galilee.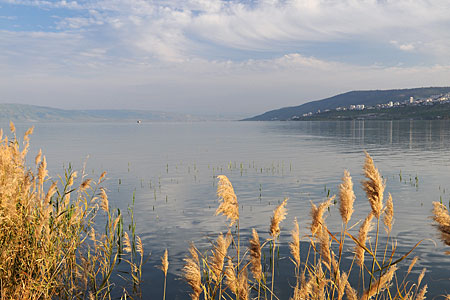 Visit the fishermen's boat dated to the time of Jesus.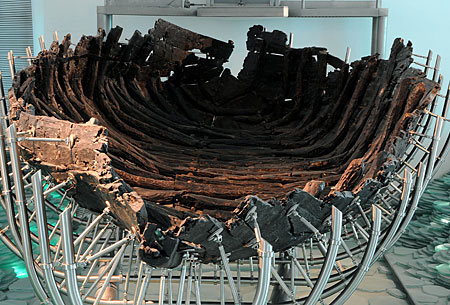 Mt. of Beatitudes, site of the Sermon on The Mount.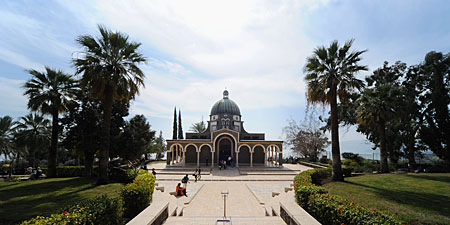 Tabgha, site of the Miracle of the Loaves and Fishes.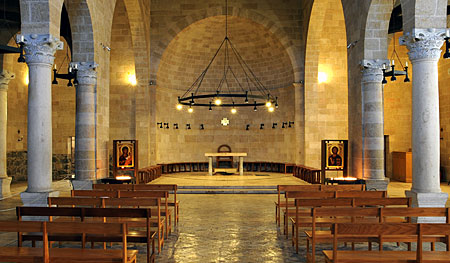 Capernaum, the city of Jesus and Peter, visit the 2nd century synagogue.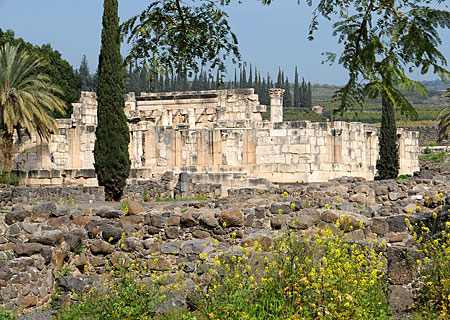 Caesarea Philippi, site of Peter's Confession "You are the Son of God."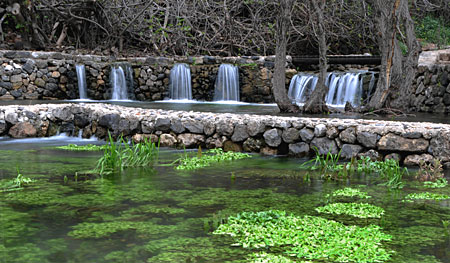 Return to Galilee hotel for dinner and overnight.
Wednesday - Day 5: Start the day with a visit to Yardenit, the Baptismal center on the Jordan River.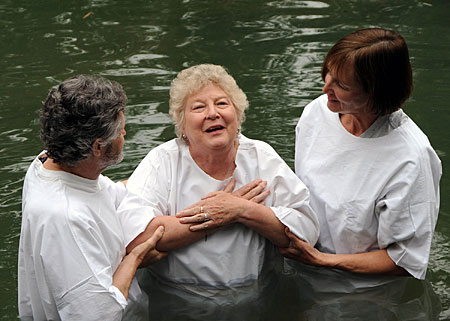 Drive to Cana of Galilee to see the Church of The First Miracle. Continue to Nazareth to visit the Church of The Annunciation and Mary's Well.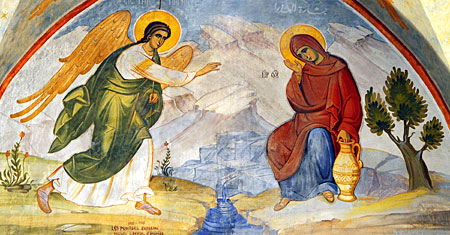 Short drive to Beit Shean and visit the excavated Roman theater. From here the tour goes south along the River Jordan Valley past Jericho to the Holy City, Jerusalem. Check into your hotel for 4 nights, dinner and overnight.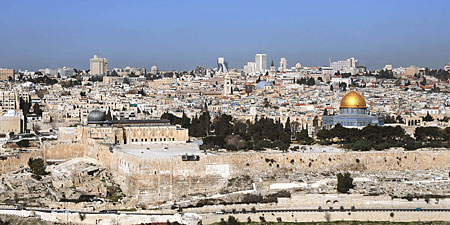 Thursday - Day 6:Drive through the Judean Desert to the Dead Sea, the lowest point of earth.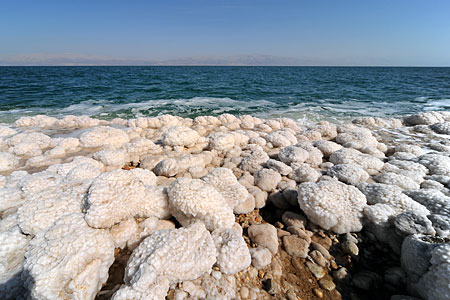 Then along its shore to the fortress of Masada. You will view the 3 dimension museum theater, then ride the cable car to the top of the mountain to see Herod's fortress-palace, synagogue, bathhouses, and more.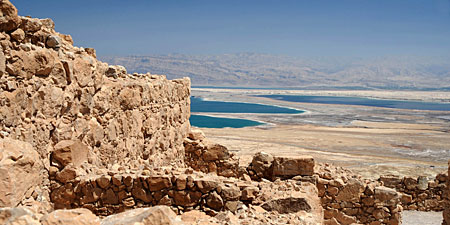 On the return trip to Jerusalem you visit the Caves of Qumran, where the Dead Sea Scrolls were discovered.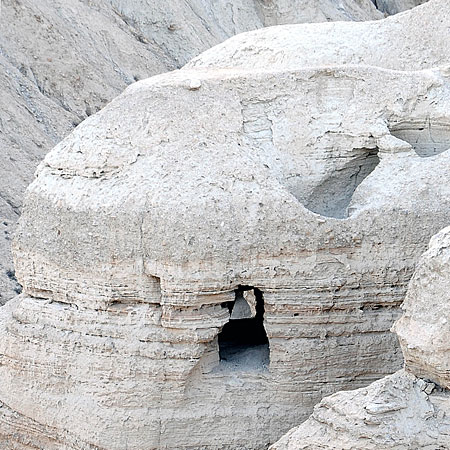 At the end of the day you have time to enjoy a "float" in the Dead Sea. Return to your Jerusalem hotel for dinner and overnight.
Friday - Day 7:Drive to Ein Karem and visit the Church of John the Baptist.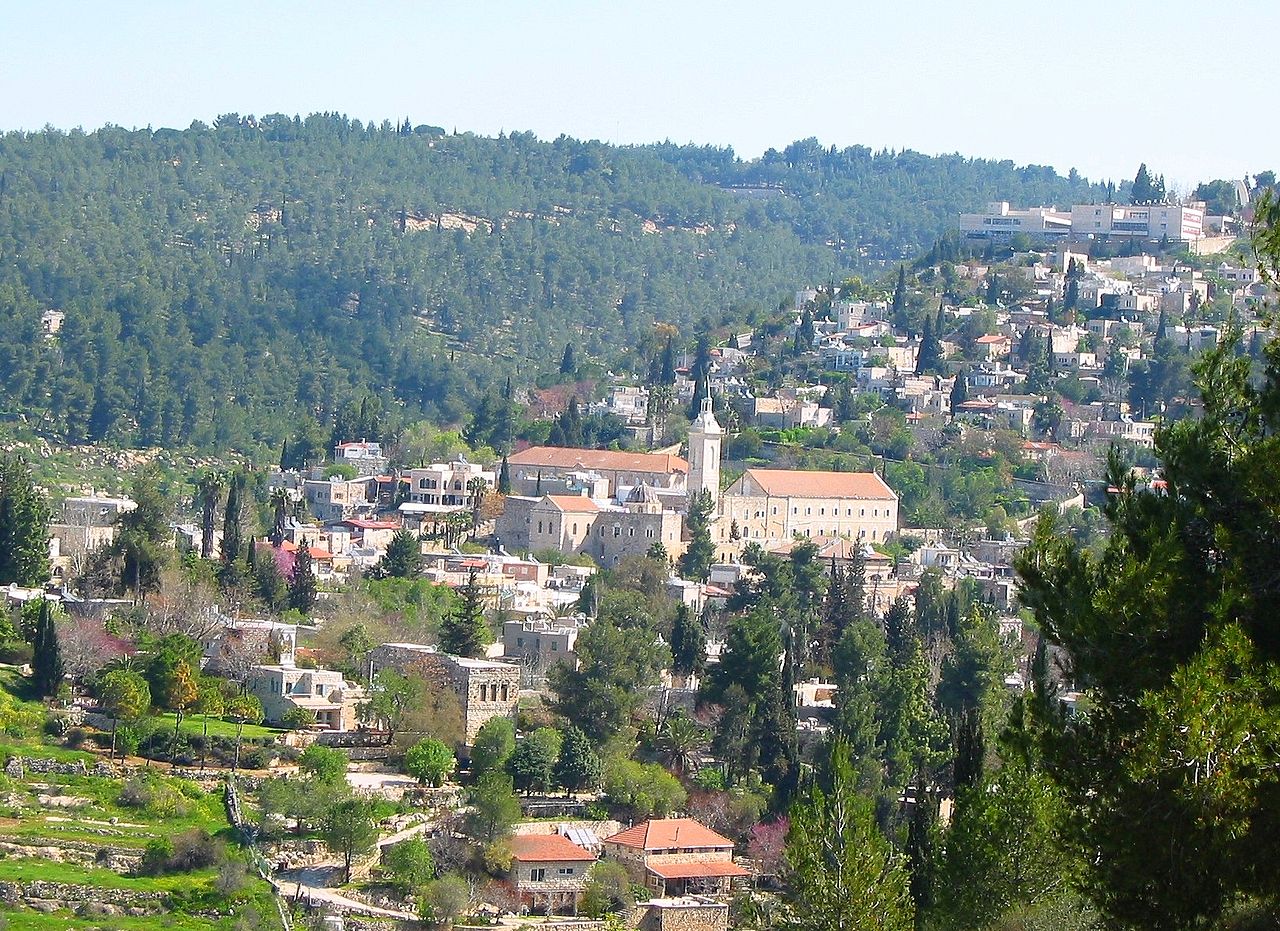 Continue to Yad Vashem Memorial to the Holocaust.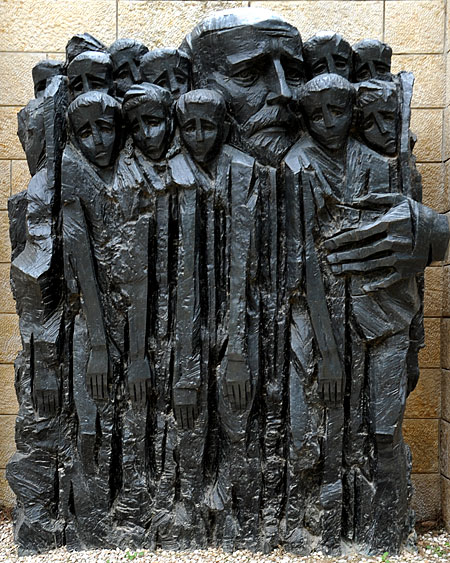 Visit the Shrine of The Book where the Dead Sea Scrolls are displayed and the Model of Jerusalem during the times of the Second Temple.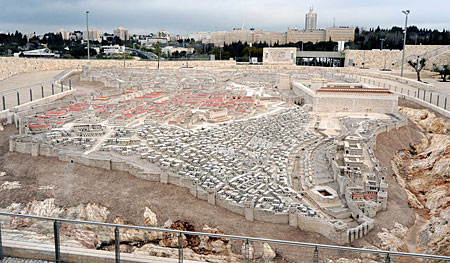 Situation permitting, drive to Bethlehem to visit the Church of The Nativity, Manger Square, and view the Shepherd's Fields.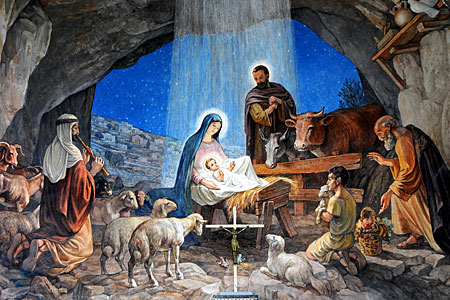 Return to your hotel in Jerusalem for dinner and overnight.
Saturday - Day 8:Drive to the Mount of Olives for a panoramic view. Visit the Garden of Gethsemane and the Church of All Nations.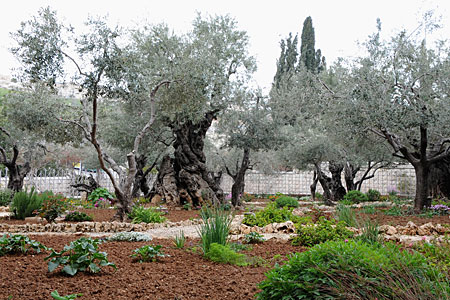 Continue to the Pool of Bethesda and the Church of St. Anne. Walk the Via Dolorosa to the Church of The Holy Sepulchre.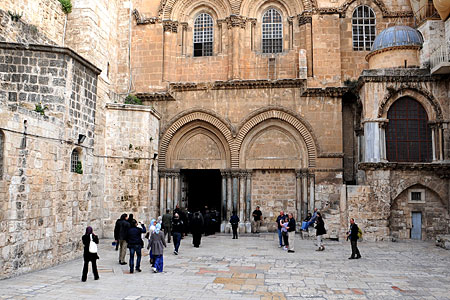 Visit the area of Temple Mount - see the Western Wall.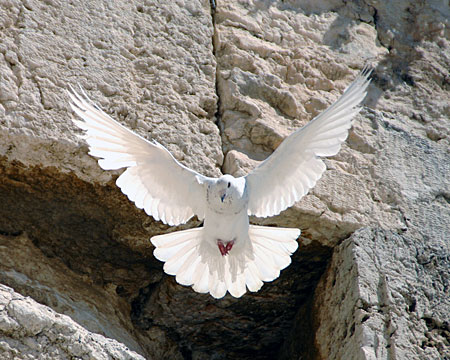 On to Mount Zion and the Church of St. Peter in Gallicantu, King David's Tomb, and the Room of The Last Supper. The tour ends with a visit to the Garden Tomb.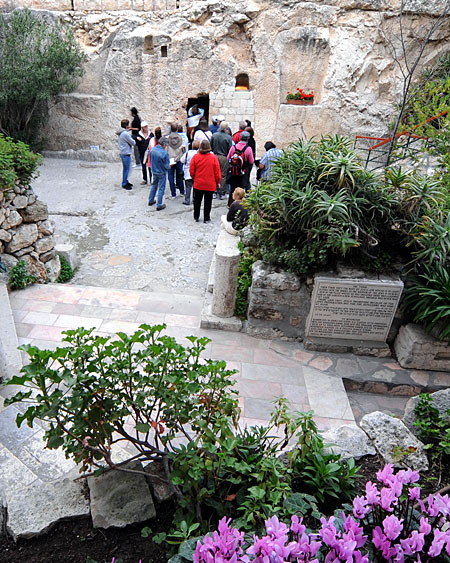 Return to your Jerusalem hotel for dinner and overnight.
Sunday - Day 9: Transfer to Ben Gurion International Airport for your departure, remain in Jerusalem for a day or two on your own revisiting the Old City (great tour hotel prices including breakfast and dinner), or continue with Jordan or Egypt extension.

Hotels and Pricing

First Class hotels - $1599 per person double occupancy, single room supplement $599. One night Tel Aviv, Grand Beach, Two nights near Tiberias, Kibbutz Lavi in first class rooms, Four nights Jerusalem, Grand Court
Deluxe hotels - $2099 per person double occupancy, single room supplement $829. One night Tel Aviv, Dan Panorama Tel Aviv, Two nights near Tiberias, Kibbutz Lavi in deluxe rooms, Four nights Jerusalem, Dan Panorama Jerusalem

Tour | TESTIMONIALS |
Extensions | JORDAN | EGYPT |

President's Tour | Israel, Jordan, Egypt with Nile Cruise - Feb/March '18 |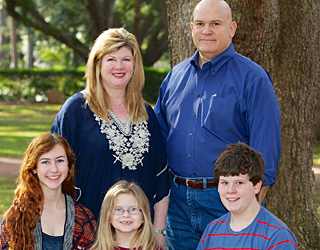 "Tim, our two tours with your company were awesome! In 2009, I took my wife and two older kids to Egypt and Israel. The trip could not have been more wonderfully planned. We were met at each destination by excellent guides and given valuable insights into not only our Christian faith, but into the cultures of the people, both ancient and contemporary. On our return, The Bible seems more alive than ever as we read scripture and imagine the land where the most crucial moments in human history occurred. I have continued to recommend your services whenever The Holy Land becomes the topic of conversation. On my solo trip last year, I relished the smaller size tour with excursions to less traveled but no less important sites. One exceptional highlight was our devotional in the Eastern Orthodox Garden of Gethsemane! So peaceful and beautiful! On both trips I took over 3000 photographs (my hobby) and I could leave tomorrow to take 3000 more! Thanks for ushering in a new understanding of the birthplace of my faith and for facilitating a deeper appreciation for the eternal impact of humble beginnings! Next year, Israel! Be blessed."- Brooks Harris, Alexandria, LA email Brooks